By Kristy Warren
Dandruff can leave us scratching our heads in more ways than one. While there isn't one simple cause, identifying the most common culprits can help you resolve underlying issues and select the best treatment for getting your dandruff under control.
What is dandruff?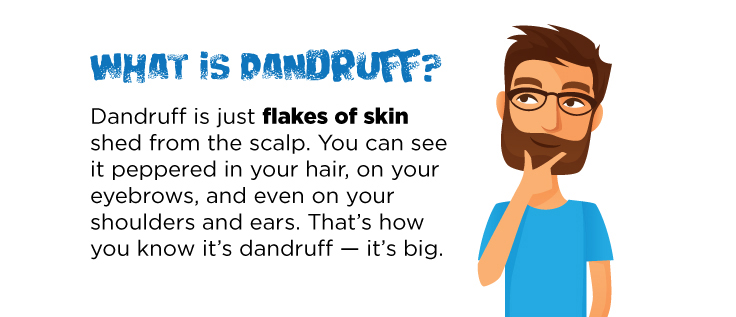 Dandruff (seborrheic dermatitis) is a common skin condition involving irritated, itchy skin and noticeable flaking. While shedding skin is perfectly normal—the average person sheds a whopping 9 lbs of skin each year!—dandruff is marked by shedding large, white or yellow flakes of skin. These flakes originate in oily areas like our scalp, the crook of our ears, or the creases of our nostrils.
What causes dandruff?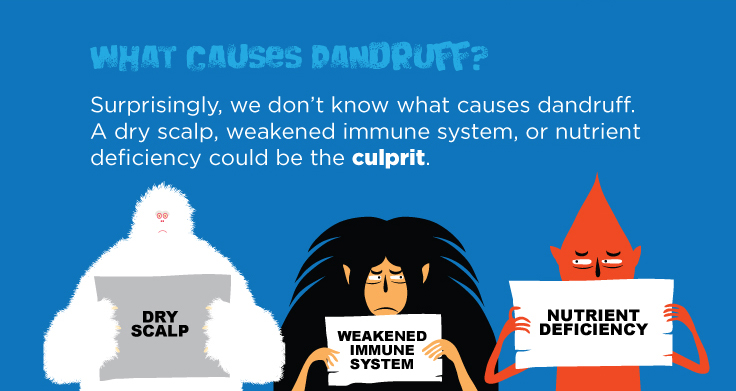 The cause of dandruff can be hard to pinpoint. Everyone is different, and there isn't one simple reason why someone develops dandruff. Common culprits include oily skin, build up from infrequent shampooing, stress, weather extremes (extremely hot, dry, or cold weather), dry scalp, hormones, reaction to a skin or haircare product, or weakened immune system.
Treating dandruff
Working to identify your dandruff culprit(s) will help you resolve the underlying issues causing the uncontrolled shedding:
Reduce stress. Stress has a negative impact on your overall health, and your skin is no exception!

Try an over-the-counter lotion or shampoo specifically designed to treat dandruff

Shampoo more often. If your scalp seems oily, it may be due to build-up. Shampoo more frequently and follow the directions with care, being sure to fully lather and rinse.

Get a little sun. There is evidence sunlight may improve dandruff flaking, but avoid long sunbathing, as it could make things worse. When spending time make sure to protect your skin with appropriate SPF to avoid UVA and UVB rays.

If your dandruff persists, call your family doctor to discuss your next treatment steps. Need a family doctor? Call 1-833-LAURELHC today.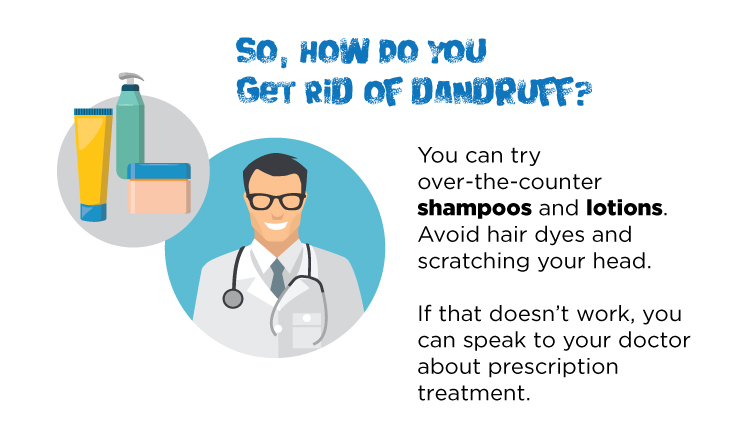 Choosing a dandruff shampoo
When it comes to choosing an over-the-counter dandruff shampoo, look for a product that mentions "seborrheic dermatitis" on the label, the clinical name for dandruff. Not all of these shampoos fight dandruff the same way. Read the labels of these dandruff-fighting shampoos to choose the one that's right for you:
Tar or selenium sulfide-based: slows down the process of skin dying and flaking off; may cause discoloration in lighter hues of hair like blond, ginger, or gray

Salicylic acid-based: removes skin scales associated with dandruff; if too drying, try pairing it with a conditioner

Pyrithione zinc or ketoconazole-based: fights scalp fungus that can lead to dandruff
If your dandruff persists or worsens during over-the-counter treatment or you are having a hard time deciding which type of shampoo is right for you, seek out the expert advice of your family doctor.
Need a family doctor? We're currently accepting new patients at all six of our clinics. Call 1-833-LAURELHC today!