By Kristy Warren
The Laurel Health Centers will provide FREE blood pressure screenings and Moderna COVID-19 vaccines on Tuesday, August 10 and Wednesday, August 11 from 10 am - 2 pm at our LHC booth at the Tioga County Fair. Everyone 18 and up is eligible. There is no cost, and no appointment is needed. Laurel Health will schedule participants' second dose at the LHC location of their choice. Come join us for free screenings, wellness information, and fun giveaways for the whole family!
Do you have questions about Coronavirus COVID-19 or the vaccine? Our healthcare experts are happy to answer them. Simply stop by our booth, give us a call at 1-833-LAURELHC (1-833-528-7354), or click here to check out a helpful Q&A answering some of the most common questions people have about the vaccine and how it works.
If you can't attend the fair but would like to schedule your vaccine, call 1-833-LAURELHC (1-833-528-7354) and select the center of your choice or click here to sign up online. Everyone 12 and up is now eligible to receive a vaccine; we are currently offering Moderna vaccine, which is approved for those 18 and up. You don't have to be an LHC patient to schedule your vaccine with us, and it is no cost to you.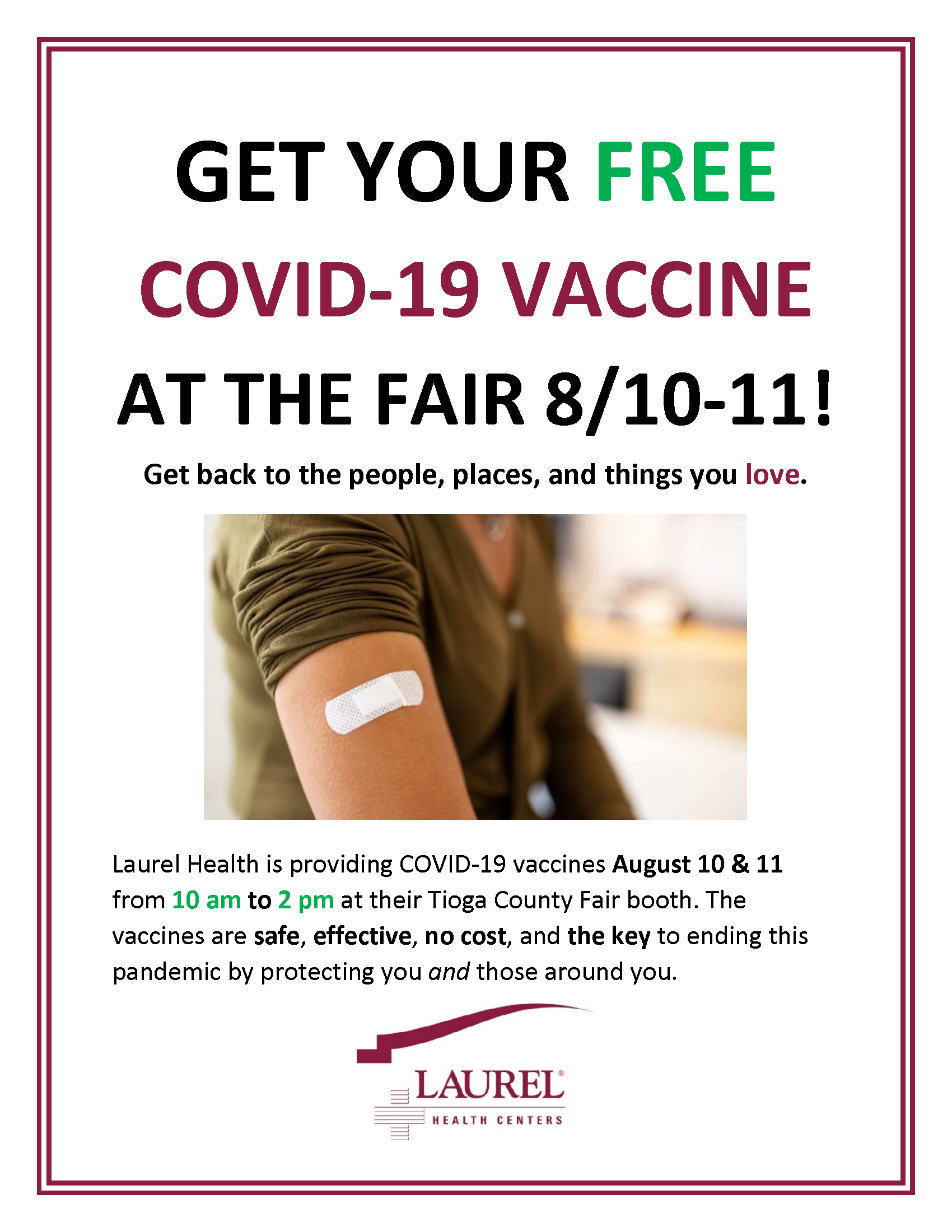 WHY IS IT SO IMPORTANT TO BE VACCINATED AGAINST COVID-19?
In the summer sunshine, it can be easy to put thoughts of the COVID-19 pandemic behind us, but it's important to remember the virus is still a very serious threat and cases are climbing. This is a pivotal time in our fight against COVID-19 as the Delta variant is threatening to undo much of our hard work in battling this virus. The vaccine plays a critical role in a) reducing the spread of the virus b) teaching your body how to fight off the virus and c) minimizing your risk of contracting the virus and experiencing severe COVID-19 symptoms if you are in the 5-10% of people who may still become infected after being fully vaccinated.
More than 97% of COVID-19 hospitalizations are now unvaccinated patients. In addition to the life-saving protection the vaccine can provide to you and others, it can also help you avoid costly medical bills related to COVID-19 hospitalization and the treatment for long-term COVID-19 symptoms, sometimes referred to as "COVID-19 long haulers."
The Delta COVID-19 strain is one the most infectious respiratory diseases we've ever seen, and it's now responsible for 93% of all COVID-19 cases in the United States. With summer vacations and tourism picking up, many people are traveling in and out of our area, but our community has not continued vital protection measures like masking, vaccination, and physical distancing that could keep this dangerous variant from getting a foothold. Getting vaccinated not only protects you, but also those around you—including your friends, family, neighbors, those who are medically compromised, and children too young to be vaccinated.
THE VACCINES ARE SAFE & EFFECTIVE
Vaccination may seem like a personal choice that only impacts you, but the reality is, that choice affects everyone.
In order to truly beat this pandemic, we must stop the rapid spread and mutation of Coronavirus COVID-19 by achieving group immunity.
The best and safest way to do that is to vaccinate as many eligible people as we can. The vaccines teach our bodies how to fight off the virus without the serious risks associated with contracting COVID-19.
Social media has allowed misinformation about vaccines to spread more widely than ever before, much of it driven by individuals attempting to sell their own "alternative" products by fear mongering and scaring families into thinking vaccines are somehow more dangerous than the deadly diseases they prevent.
The COVID-19 vaccines are safe, free, and effective, now successfully given to millions of people around the world. They have been repeatedly scientifically proven to be very effective at:


Helping our bodies fight off COVID-19 much more successfully



Reducing the spread of the virus



Making it much harder for COVID-19 to continue to mutate into deadlier and more infectious strains by reaching group immunity (when large groups are vaccinated)



Minimizing our personal risk for serious illness if we become infected in "breakthrough" cases, which are often the result of variant strains
Comprehensive safety data on these vaccines has been gathered since the first trials and is closely monitored to assure the vaccines are effective and safe. They are subject to all of the same intensive safety standards as every other vaccine. Thanks to unprecedented collaboration between scientists and doctors around the world, the vaccines were able to be produced quickly using technology that was developed more than 30 years ago (mRNA). For more detail about how these vaccines work, click here.
If you have any questions or concerns about vaccines, it's best to talk them over thoroughly with your doctor. Physicians have gone to school for many years and are experts in their field; you trust them to care for you when you are sick. They can help you sort fact from fiction and empower you to make informed healthcare decisions.
THE DELTA VARIANT IS COMING
Our rural area is at particular risk to be decimated by the Delta variant like we are watching happen in the south. Why? Our rural health systems can be easily overwhelmed by a surge in cases, the Delta variant is highly contagious, and unfortunately, Tioga County's vaccination rate has stagnated at only 38% fully vaccinated, which is not high enough to stop uncontrolled spread or prevent a massive surge in cases. It takes 70% or more of the population to be immunized against the virus before we achieve the benefits of group immunity, which protects those who cannot be vaccinated because they are medically unable or too young.
WE CAN STOP THE SPREAD
Viruses can mutate quickly in a largely unvaccinated population. We've witnessed this happening firsthand over the past year-and-half with the emergence of the UK, South African, Brazil, and Delta variants. If left unchecked, COVID-19 will continue to mutate, and we risk the development of a strain that the vaccines are no longer protective against. This will result in many more lives lost, dangerously overwhelmed healthcare facilities, severely ill patients, healthcare worker burnout, and a return to strict mitigation measures like quarantines.
Luckily, we have a hard-worn tool to help us avoid another deadly surge: the COVID-19 vaccines. If a large enough portion of a population is immunized against a virus like COVID-19, it becomes much harder for the virus to spread widely and develop dangerous strains like the Delta variant. In order to truly end the pandemic and avoid another wave, we must stop the rapid spread and mutation of COVID-19 by achieving group immunity. Vaccination is the best and safest way to do that.
Help us reach that level of immunity by encouraging everyone eligible to be vaccinated, so we can all truly get back to the people, places, and things we love. Vaccine is available to everyone 12 and up (Pfizer 12+ and Moderna / Janssen 18+). It's safe, effective, and no cost to the patient.
Vaccination protects not only the recipient but those around them by making it much more difficult for the virus to spread and mutate.
VACCINES CAN BEAT THIS PANDEMIC
We're happy to report the COVID-19 vaccines have been a massive success where they've been administered widely. Looking at a map of the US, you can see the much lower infection rates in communities that have reached the threshold for group immunity.
For the sake of protecting yourself, your family, your colleagues, your neighbors, and your community, if you haven't already, please get vaccinated against COVID-19 and encourage everyone you know 12 and older to do the same.
The side effects are short-lived and mild, and the benefits of the strong protection far outweigh the very miniscule risk for rare adverse effects like allergic reaction. The vaccines also teach your body how to effectively fight the virus without the much greater risks associated with contracting COVID-19, including severe illness, hospitalization, chronic COVID-19 "long haul" symptoms, lung damage, and even death.
Please stop by the Laurel Health booth for more information or visit our COVID-19 resources page here. Hope to see you there!