By Kristy Warren
Need a COVID-19 test? Laurel Health has you covered with point-of-care tests and PCR swabs. We offer testing at all seven Laurel Health Center sites throughout Tioga and Bradford Counties. To schedule a test, simply call 1-833-LAURELHC (1-833-528-7354) and select the clinic location of your choice or click here to visit our contact page.
To better coordinate follow-up care, anyone requesting a test will first receive a televisit with an LHC provider to evaluate their symptoms and exposure. The provider will determine if testing is needed, what type of test to schedule, and when to conduct the test as well as advising your next steps and discussing results.
Anyone who thinks they may have been exposed to Coronavirus COVID-19 or is currently experiencing COVID-19 symptoms is encouraged to schedule a test.
To address a surge in local cases, we will also hold a drive-through COVID-19 testing clinic on Wednesday, September 8th from 10 am – 2 pm in front of the Blossburg LHC at 6 Riverside Plaza. Anyone concerned about potential exposure or currently experiencing COVID-19 symptoms is encouraged to sign up to attend this drive-through event.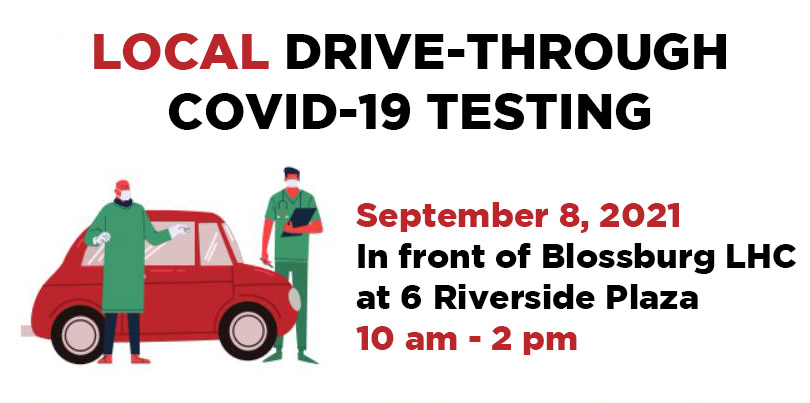 If you'll be attending a Laurel Health drive-through testing event, please remember to bring your:


Mask


Driver's license, photo ID, or other form of personal ID


Insurance card (if applicable)


Note: You don't have to be insured to schedule a COVID-19 test and televisit. Laurel Health is committed to treating everyone, regardless of their ability to pay. If cost is a barrier to your care, please ask about Laurel Health's sliding fee program, which helps income-eligible families with deductibles, co-pays, and healthcare costs.


To schedule a COVID-19 test, call us at 1-833-LAURELHC (1-833-528-7354) or visit our contact page for Laurel Health numbers by location.
For more information about COVID-19 testing and prevention, click here to visit Laurel Health's COVID-19 resources page and stay tuned to our Laurel Health news blog for the latest updates about local COVID-19 testing events.