By Kristy Warren
The Laurel Health Centers now offer all three Coronavirus COVID-19 vaccines at their locations throughout Tioga and Bradford Counties. Everyone 12 and up is currently eligible to receive a COVID-19 vaccine. In addition to first and second dose scheduling, Laurel Health is now scheduling third doses for the immunocompromised and booster shots for those eligible based on the CDC and PA Department of Health guidelines; please see full details below.
EVERYONE 12 AND UP CAN NOW BE VACCINATED
Community members can schedule an appointment to receive the Pfizer vaccine (approved for 12+), the Moderna vaccine (approved for 18+), or the Johnson & Johnson Janssen vaccine (approved for 18+). The LHCs have been offering Moderna and Janssen for months and recently installed the special equipment necessary to offer Pfizer to provide vaccine to younger residents. The centers will also be offering the pediatric Pfizer vaccine for patients aged 5 - 11 once approved.
To schedule your COVID-19 vaccine, call 1-833-528-7354 and select the center of your choice or sign up online using our COVID-19 vaccine form.
THIRD DOSES AND BOOSTER SHOTS
Laurel Health is currently scheduling third doses for the immunocompromised and booster shots for those eligible based on the CDC and PA Department of Health guidelines. The language "third dose" refers specifically to a third full dose of vaccine given to immunocompromised people like cancer and transplant patients a month or more after their second dose as part of a three-dose vaccine series. By contrast, a booster refers to a shot given at least six months later to boost the immune response in someone already fully vaccinated.
"Booster shots help keep our body alert and making COVID-19 antibodies to better protect against new variants," explains Guillermo Rodriguez, MD, Chief Medical Officer for the Laurel Health Centers. "A booster shot may contain a full or partial dose based on the vaccine brand. Patients can receive a different vaccine brand than their original series for a booster shot. For example, if you originally received the one-shot Johnson & Johnson vaccine Janssen, you may choose to get a second J&J shot or elect to have Moderna or Pfizer for your booster vaccine."
WHAT "MIX & MATCH" REALLY MEANS

For booster shots, patients may choose to receive the same vaccine or switch to another vaccine if preferred. This decision was made to expand booster shot availability and make it easier for eligible patients to get scheduled (e.g., if a patient originally received Pfizer but it's not currently available in their area, this decision allows them to schedule a Moderna or J&J booster shot instead).
Patients can safely switch brands for their booster shot because all three approved COVID-19 vaccines were shown to successfully strengthen immunity and antibody response when given as a booster regardless of whether the brand matched the patients' original vaccine series. This is being referred to as "mix-n-match" in news coverage, but it's important to note none of the vaccines are being mixed together into one shot.
WHO IS NOW ELIGIBLE FOR BOOSTER SHOTS
Laurel Health is scheduling booster shots for everyone who meets the CDC's recommended booster shot criteria. Pfizer and Moderna booster shots have been approved for those who received their last dose at least six months ago and are either aged 65 and up, 18+ with underlying health conditions, or 18+ in work or living arrangements that put them at higher risk for exposure to COVID-19 (e.g., healthcare workers, schoolteachers, long-term care facility residents / workers, daycare employees, group home residents, etc.).
It is also recommended that everyone who received Johnson & Johnson's one-dose Janssen vaccine receive a booster shot to be given two or more months after their first shot; these patients may schedule either a second J&J dose or a dose of Moderna or Pfizer.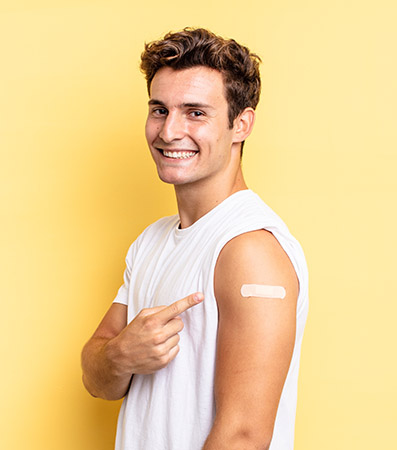 The COVID-19 vaccines are safe, effective, and protect the recipient and those around them.
The vaccines teach your body how to recognize and fight off the COVID-19 virus more effectively, greatly reducing your risk of catching COVID-19 and experiencing severe symptoms or complications, including hospitalization and death.
When enough people are immunized against a deadly virus, it becomes much more difficult for that virus to spread, sicken, and kill.
By contrast, in a mostly unvaccinated population like those in Tioga and Bradford Counties, viruses can quickly spread and mutate to become even more contagious, dangerous, and deadly. The world has watched this happen firsthand over the past year and a half with the development of the UK, South African, Brazil, Delta, and Mu COVID-19 variants.
The longer COVID-19 can mutate in a large, unvaccinated population, the more we risk a strain developing that the vaccines no longer protect against. This would mean returning to square one with more intensive mitigation measures like lockdowns and widespread quarantines. It would lead to even more preventable deaths, surges of critically ill patients, soaring healthcare costs, delayed surgeries and treatment for other illnesses / conditions, overwhelmed healthcare facilities, more school and business closures, and increased healthcare staff burnout—leaving facilities critically understaffed and unable to care for patients.
"These vaccines are our key to truly getting life back normal. No one wants to lose our hard-won progress against COVID-19, so we're asking you to please protect yourself, your friends, your family, and your community by getting vaccinated as soon as possible," added James A. Nobles, President & CEO of the Laurel Health Centers.
You do not have to be a Laurel Health patient to schedule your vaccine with us, and the COVID-19 vaccine is provided at no cost to you.
To schedule a COVID-19 vaccine, call 1-833-LAURELHC (1-833-528-7354) and select the office of your choice or click here to view LHC numbers by location.
To make your vaccine appointment online, click here to sign up using Laurel Health's vaccine registration form.
For more information about the COVID-19 vaccines, how they work, and why they're so important, please call your healthcare provider to discuss or visit Laurel Health's official COVID-19 resources page.