By Kristy Warren
School nurses play a vital role in students' health and safety. They help children through illness and accidents, providing everything from clinical care to basic hygiene items and spare clothing.
Each year, school nurses see greater demands on their budgets and often end up purchasing supplies out of pocket. To help our local school nurses stay stocked throughout the school year, the Laurel Health Centers have launched "Helping Children Succeed," an employee drive to collect items and funds to purchase supplies.
Following its enthusiastic response from employees, Laurel Health expanded the drive to include the whole community, inviting everyone to participate. Laurel has set up convenient drop boxes at each of their Laurel Health Centers to collect donated items.
This supply drive supports school nurses in the Southern Tioga, Northern Tioga, and Wellsboro school districts.
The most-needed items, as identified by our local school nurses:
Chapstick

Lotion

Underwear

Socks

Unisex t-shirts

Deodorant

Hand sanitizer

Tissues

Elastic-waist bottoms (e.g., leggings, sweatpants, gym shorts, track pants)


Please note: Due to the clinical nature of a nurse's office, donated items must be new and unused; monetary donations to purchase supplies are also being accepted.
DROP-OFF LOCATIONS: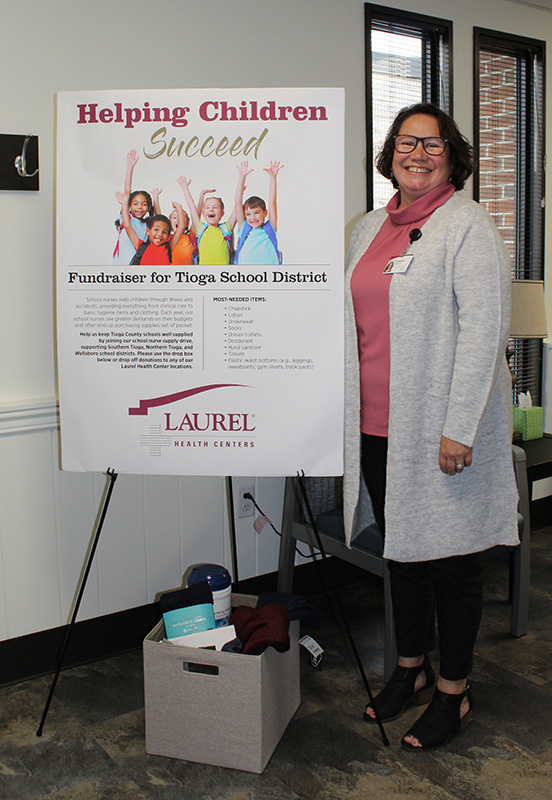 Blossburg Laurel Health Center, 6 Riverside Plaza, Blossburg, PA


Elkland Laurel Health Center, 103 Forestview Drive, Elkland, PA


Laurel Health & Wellness Center, 40 West Wellsboro St, Mansfield, PA


Laurel Pediatrics, 1 B Main St, Wellsboro, PA


Lawrenceville Laurel Health Center, 32 East Lawrence Road, Lawrenceville, PA


Mansfield Laurel Health Center, 416 South Main St, Mansfield, PA


Wellsboro Laurel Health Center, 7 Water St, Wellsboro, PA


Westfield Laurel Health Center, 236 East Main Street, Westfield, PA

If you would like to donate money toward purchasing supplies in lieu of donating items, please make your donation at the registration desk of the Laurel Health site of your choice.
Thank you for making a difference in our schools and helping children succeed!