By Kristy Warren


Our health is a complex web of physical, mental, and emotional needs, and for the Laurel Health Centers, putting patients first means caring for the entire person. The first of its kind in our area, the brand-new Laurel Health & Wellness Center, located at 40 West Wellsboro St. in Mansfield, integrates physical, mental, and emotional healthcare to address the needs of the whole-person in one convenient location.
From its welcoming décor to its cutting-edge care, the center brings wellness home, providing the comprehensive care you need right here in Tioga County. Take a virtual tour of the brand-new facility, meet some of the local artists behind the facility's stunning artwork, and learn more about Laurel Health's innovative new services as The Homepage Network sits down with the Laurel Health & Wellness Center's providers and leadership team.
CUTTING-EDGE CHIROPRACTIC CARE
Many people suff­er from neck, back, joint, and nerve pain, but are unable or nervous to undergo traditional chiropractic manipulation. Dr. Jennifer Gonzalez is specially trained to treat patients typically unable to see a chiropractor like infants, seniors, and back surgery patients, using non-invasive adjustment options like the Sigma Pro-Adjuster.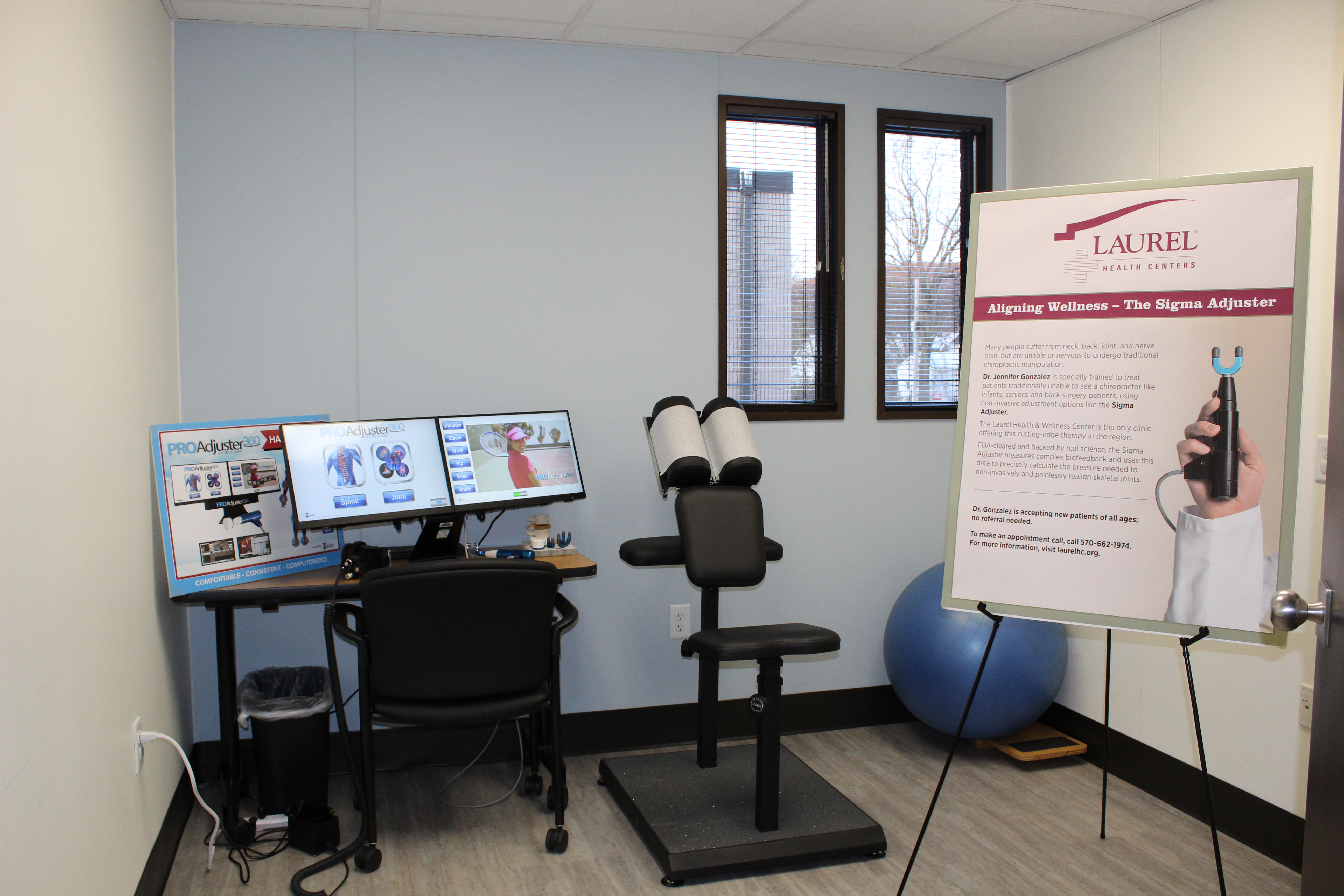 The Laurel Health & Wellness Center is the only center offering this cutting-edge therapy in the region, with only approx. 40 advanced Sigma machines available nationwide. FDA-cleared and backed by real science, the Sigma Adjuster measures biofeedback and uses this data to precisely calculate the pressure needed to non-invasively and painlessly realign skeletal joints.
What's more, the Laurel Health Centers are committed to affordable chiropractic care. While many private chiropractors cannot process a large array of insurance plans, the Laurel Health Centers accept all major insurances and offer sliding fee programs to underinsured / uninsured patients to remove cost barriers.
WELLNESS & RECOVERY CARE
Addiction can affect anyone and is a growing problem in rural areas like Tioga County. The Laurel Health Centers have adopted a new wellness model that not only seeks to identify and prevent at-risk patients from falling victim, but also coordinates care between facilities and treats underlying addiction issues by joining behavioral health and clinical care to help patients successfully recover.
The Laurel Health Centers have remained committed to prevention by:
• Identifying addiction risks
• Assuring prescriptions are handled appropriately
• Addressing overlapping behavioral and emotional health concerns
• Smoothly partnering between facilities through our care coordinators
• Supporting alternate means of chronic pain management (e.g., chiropractic adjustments, physical therapy, and yoga)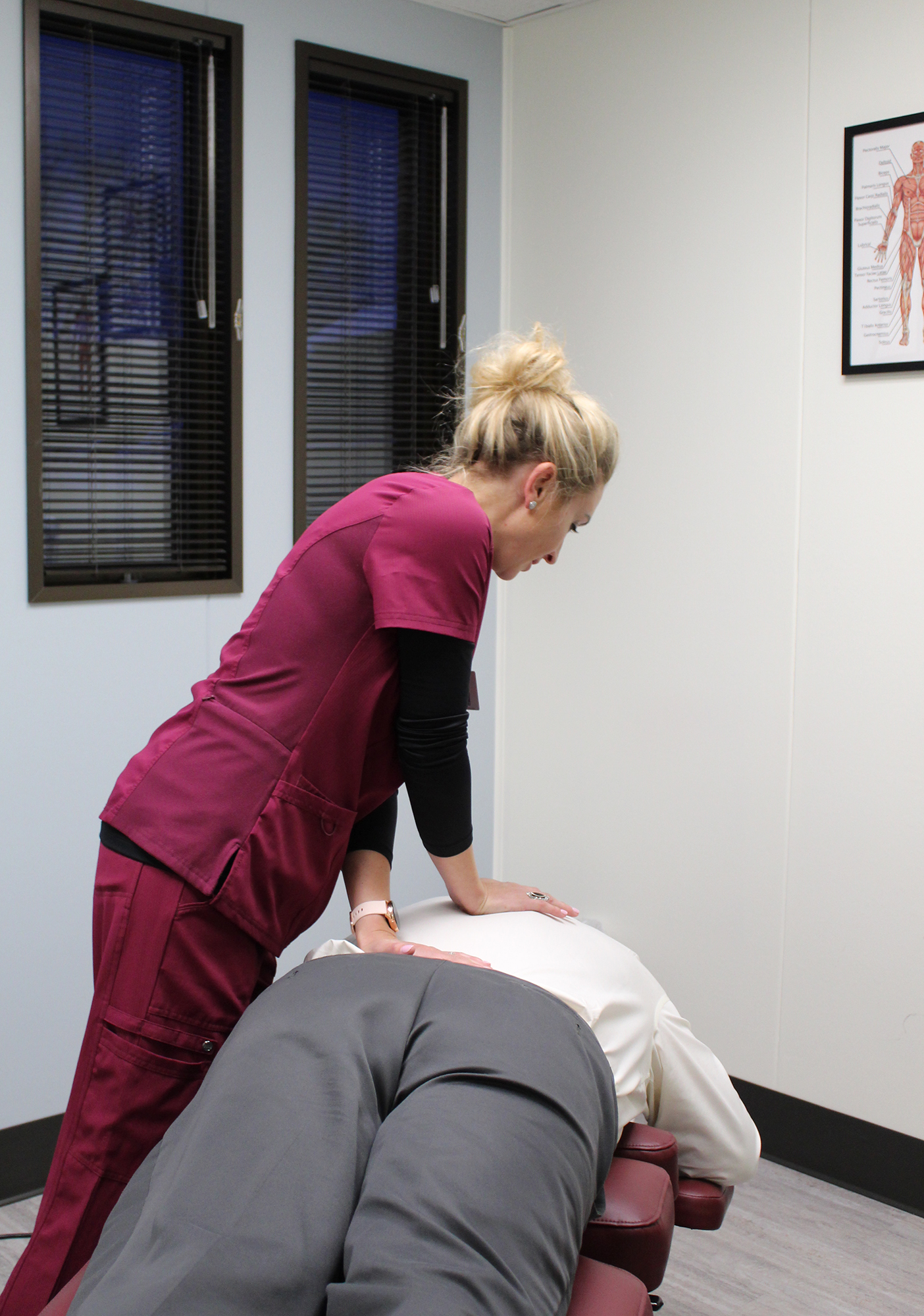 Rural patients often travel great distances to receive the recovery services they need, making them more likely to forgo or stop treatment. The Laurel Health & Wellness Center will be introducing local medication-assisted treatment to help addicted patients successfully recover. This treatment helps patients safely withdraw from substances like prescription painkillers under the supervision of clinicians to avoid dangerous reactions and relapses.

As part of this holistic model, Tess Interlicchia, CRNP, and Jonelle Brennan, Laurel Behavioral Health Care Coordinator, are joining the new Laurel Health & Wellness Center in Mansfield.
When physical, mental, and emotional needs are addressed together, patients are more likely to achieve their goals and recover successfully. Our expert clinical, behavioral health, and care coordination team makes navigating healthcare treatment faster, safer, and easier.
ART FROM THE HEART

This summer, the Laurel Health Centers invited local artists to submit photos to the theme "What Makes Tioga County Special" for a chance to be featured in our brand-new Laurel Health & Wellness Center. The theme was open to each artist's interpretation, and the submissions included a beautiful blend of nature, culture, landmarks, and community scenes.
Local artists pose with their winning photo entries during the Laurel Health & Wellness Center event.
Featured above from left: Dawson Bourdette with his artwork "Flowers in Spring," Erica Roan with her artwork "Newborn Fawn" and "Hiding in the Laurel," Travis D. Snyder with his artwork "Summer Reflection," and Desiree McGovern and partner Mike Taylor with her piece "Taylor Farms."
With well over 300 entries, selecting the Laurel Health Centers' photo contest winners was no easy task. The 19 local artists chosen received a special gift and recognition reception in their honor as well as their artwork professionally framed for display in the new center.

ACCEPTING NEW PATIENTS

The Laurel Health & Wellness Center is accepting new patients of all ages. As part of the Laurel Health Centers family, the center is dedicated to treating patients regardless of their ability to pay and improving the overall health and well-being of our community.

The Laurel Health Centers offer award-winning family medicine, behavioral health, and specialty services for the whole family at nine convenient sites throughout Tioga County.

For more information, or to make an appointment at the Laurel Health & Wellness Center, call 570-662-1974 or visit laurelhc.org.